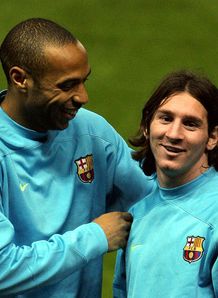 Barcelona players Lionel Messi and Thierry Henry have suffered minor injuries which might rule them out of this Sunday's Super cup game against Athletic Bilbao.
Lionel Messi has suffered a cramp in his right leg and will definitely miss Argentina's friendly match against Russia. However his exact recovery time is not yet known, and there is a possibility that he might also miss the Super cup game on Sunday.
Thierry Henry has pain in both Achilles tendons and will also miss his international friendly against the Faroe Islands. It is currently doubtful if he will take part in the Super cup game as well.
Ibrahimovic and Iniesta have already been ruled out of the game against Bilbao, though Ibrahimovic will make his debut in the Gamper cup next week.